A FUN ACTIVITY FOR THE WHOLE FAMILY!
Join us on an action-packed adventure around Cayuga Lake!

We are excited to continue to offer this program for families/groups looking for a fun activity to do with children while enjoying the Cayuga Lake area.
The 2023 KIDS CAYUGA LAKE puzzle book continues the scavenger-hunt activity that takes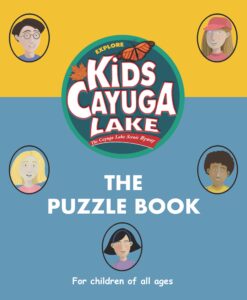 you around Cayuga Lake to 12 different locations. The new puzzles let you solve the clue before you get to the site. Once you arrive, begin the search! We picked sites where you will experience and learn about the natural, historic and cultural fabric of the Cayuga Lake basin.
We are offering the KIDS CAYUGA LAKE program free of charge. If you enjoyed the adventure and would like to help us offer the program in the future with new editions, please consider sending us a contribution – even $5.00 will help. Click on the DONATE button in the lower right-hand corner of this page to get started.
The new puzzle books will be available at locations around Cayuga Lake. Check back in as we will be adding more locations.
Cayuga Nature Center
Cayuga Lake State Park, Park Office
Discover Cayuga Lake Boat Tours
Montezuma National Wildlife Refuge Visitor Center
Museum of the Earth
NYS Equal Rights Heritage Center, Auburn
Taughannock Falls State Park, Park Office
Visitor Center, Taughannock Falls State Park Overlook
Visitor Center, Downtown Ithaca – on the Commons
Village Market, Aurora
Thank you to DANDY MINI MART for donating the funds to print our third edition!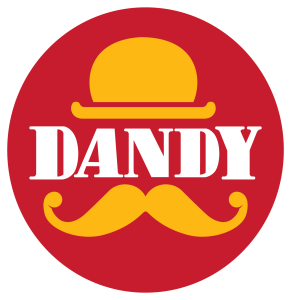 ABOUT THE ILLUSTRATOR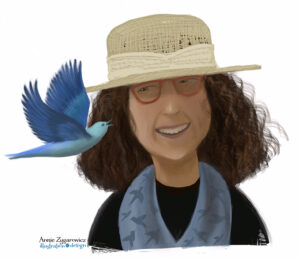 Annie Zygarowicz served on the Board of Directors of the Cayuga Lake Scenic Byway, Inc. when she brought us the idea to develop a program for children to learn about the natural, cultural and historic assets surrounding Cayuga Lake. The Board loved the idea and even after Annie left the Board, we worked with her to create the Guidebook featuring her KIDS CAYUGA LAKE.
Annie's Bio
As a life-long painter, sculptor, and graphic designer, Annie Zygarowicz has enjoyed every path of her art career.
Soon after graduating from the School of Visual Arts with BFA in illustration, Annie freelanced as an editorial illustrator for magazines while also developing marketable displays and products for children's products. She has sculpted props and characters in clay that have been showcased in magazines and group/solo exhibitions. As an illustrator and graphic designer, she works with clients producing catalogues, book covers. booklets, signage, websites, maps, and educational products. Annie has also focused on illustrating and writing for children as well as paintings for
galleries. Her portfolio includes digital and traditionally rendered art and illustrations, character design and book dummies of pre-published children's books. Annie's illustrations have recently been published in publications and printed material.
More of Annie's art can be found at http://www.anniezygillustration.com
Facebook.com/anniezygillustration
Featured Partners
Top-Tier Supporters of the Cayuga Lake Scenic Byway, Inc. Enjoy the Ride!