Welcome to the Cayuga Lake Blueway Trail! Our public water-recreation trail connects non-motorized watercrafts, including kayaks, standup paddleboards, canoes, etc., to a treasured natural resource, Cayuga Lake. Traveling the Blueway Trail offers opportunities to access local businesses and recreation areas. It is also a great way to enjoy the beauty of this freshwater, glacially-formed lake from an intimate on-the-water perspective.
The trail includes publicly-accessible launch sites that are spread out along the entire shoreline of Cayuga Lake. A significant portion of the Cayuga Lake shoreline is privately owned and developed. The trail guides paddlers to enter and exit the lake at numerous convenient public locations. It creates opportunities for both short and long Blueway Trail trips. Check out the Day Trip menu to see the 22 paddling trip options. You can also purchase a waterproof pocket guide at the Visitor Center at the Taughannock Falls State Park Overlook or from our Online Store.
The vision for the Cayuga Lake Blueway Trail is to create memorable paddling trips suitable for novices and experts alike. The trail provides enhanced public access to the lake for paddling experiences and highlights the rich historic and natural features surrounding Cayuga Lake.
We hope that you will share your Blueway Trail experience with us on our Facebook, Twitter and Instagram pages so that others considering a visit to Cayuga Lake will know what an awesome time they will have.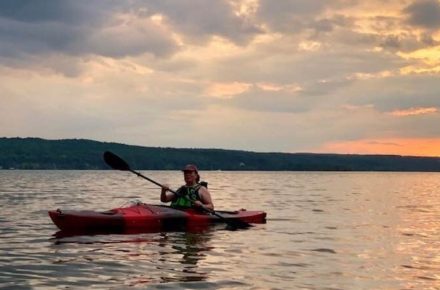 PADDLING CAYUGA LAKE
One of the eleven glacially-formed lakes, Cayuga Lake's 40 miles of water surface offer many opportunities to engage with the lake and the environment around the lake. Before you head out to the trail, visit our Safety and FAQ pages.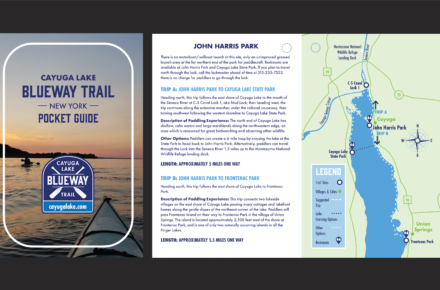 Our waterproof 4″ x 6″ pocket guide is a must resource for planning your Cayuga Lake on-the-water adventures. Head over to the SHOP page to find out where to purchase your copy. Don't forget to get the decal too!
Learn more

about SHOP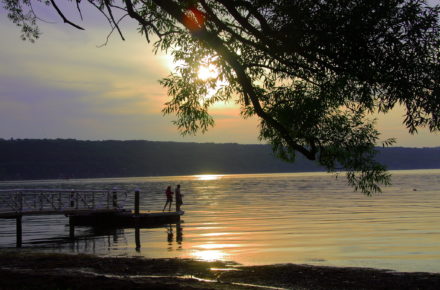 FUTURE PLANS
The 2021 launch of the Cayuga Lake Blueway Trail consists of 12 publicly-owned and maintained sites, mostly located at public local or state parks. We hope to add more sites to the trail in the future in partnership with private landowners and business owners.
Featured Partners
Top-Tier Supporters of the Cayuga Lake Scenic Byway, Inc. Enjoy the Ride!