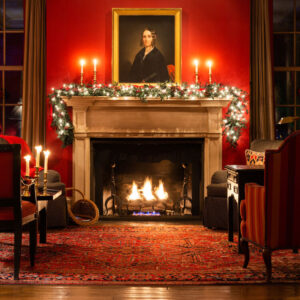 Experience the joy of the Christmas Holidays along the Cayuga Lake Scenic Byway for a 2-or 3-day getaway weekend. An amazing destination full of fabulous wineries, spectacular museums, superb dining and splendid places to stay. The upcoming merriest season converts our many towns and cities into a stunning winter wonderland. Enjoy festivals, candlelight tours, wine events, horse carriage rides, ice sculptures and so much more as you begin to realize that you too have a truly wonderful life.
Cayuga Lake, a glacially formed lake is one of the Finger Lakes and is 40 miles long. The Scenic Byway, an 87-mile loop, surrounds Cayuga Lake and follows spectacular lake views, rolling hills, picturesque vineyards and waterfalls along the way.  Come and visit for a day, three days or five to explore the beauty and the ambience we have to offer. The following are a few itinerary ideas to choose from, so mix and match to create your perfect stay along the Cayuga Lake Scenic Byway.
Illuminated Light Sculptures- Ithaca Downtown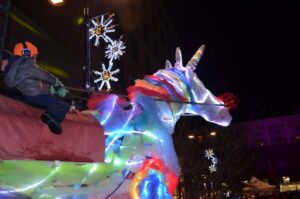 Immerse yourself for either one of two weekends December 3rd and 4th or December 10th and 11th at the Winter Lights Festival in Ithaca. Experience the interactive festive lights, illuminated light sculptures and activities as you celebrate the Holiday Season. Here you can shop, dine and enjoy these holiday festivities, a silent disco, ice bar and glow bar plus live outdoor entertainment. On Friday, December 3rd check out Gallery Night Ithaca, a series of in-person shows and a walkable tour of window displays of artwork in storefront windows throughout the Downtown area. On Saturday delight in the 11th Annual Chili Cook-Off event from Noon to 4:00PM.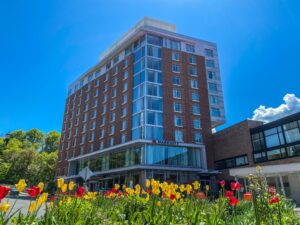 Need a place to stay the Ithaca Marriott Downtown on the Commons offers all the comforts of home. You may dine at the hotel's restaurant and bar, Monks on the Commons or enjoy a craft cocktail.  The Marriott has a fitness center and is pet-friendly.
The beauty of the Ithaca Downtown area is you have a choice of over 50 fine restaurants along the Ithaca Commons an easy walk from the hotel including the world-famous Moosewood Restaurant, whose award-winning vegetarian cuisine will delight you.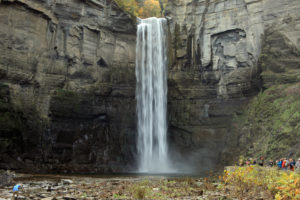 Explore the Cayuga Lake Scenic Byway by taking a short drive and hike at Taughannock Falls State Park. There are a few trails to choose from but a popular favorite is the Gorge Trail that leads you to the famous Taughannock Falls, the tallest falls east of the Mississippi. As your day progresses try a wine tasting at one or two of the 28 wineries along the Byway. Additionally, you can try a taste of hard ciders, distilled spirits or mead to round out your palette. For more info on some of these establishments check out the Cayuga Lake Wine Trail. On the weekend of December 4th and 5th the Wine Trail hosts the Holiday Shopping Spree event.
This itinerary is a suggestion, for further options check out these other sites, our Byway Destinations, Visit Ithaca or Cayuga Lake Wine Trail for a complete list of accommodations, restaurants, wineries and other hiking trails to choose from.
It's a Wonderful Life in Seneca Falls
From December 8th to December 12th Seneca Falls turns into the iconic Bedford Falls from the movie "It's a Wonderful Life" celebrating its 75th Anniversary. Here they celebrate "It's a Wonderful Life Festival" where you'll see 7 cast members including Karolyn Grimes who played "Zuzu Bailey". This year they are featuring George Bailey's car, a 1919 Dodge Touring Car. Throughout the weekend you can experience a special screening, autograph signing, presentations about the movie, a 5K Run, roasted chestnuts and so much more.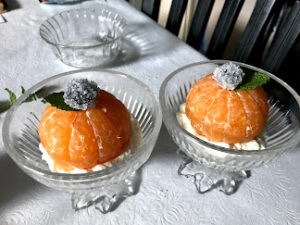 To rest your head, stay at Barrister's Bed and Breakfast, located in Seneca Falls at the northern part of Cayuga Lake offers you warm friendly service and the most tastiest breakfasts you will ever have. Barrister's Bed and Breakfast was built in 1860 and is full of the finest architectural details, carved oak mantels, stained glass windows and spacious porches. The house speaks of history as well as the many places you can visit only a short walk from the B&B.
Visit the Women's Rights National Historic Park devoted to people, places and events that played a role in fighting for women's suffrage including Elizabeth Cady Stanton. Additionally plan to visit the new location of the National Women's Hall of Fame. The quaint village of Seneca Falls has shops, restaurants and museums to see including the It's A Wonderful Life Museum full of memorabilia from the iconic movie.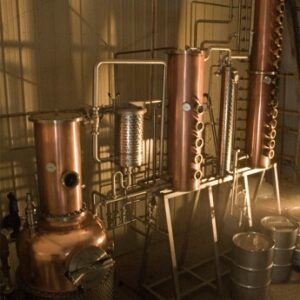 Visiting wineries is a must, especially Buttonwood Grove Winery where you can enjoy spectacular lake views and beautifully landscaped grounds.   A perfect place for a fine glass of wine. Another must winery stop is Montezuma Winery and Hidden March Distillery.  At Montezuma Winery you'll have a chance to try wines, wine slushies, homemade fudge, and browse around in their gift shop with a full abundance of gifts. At Hidden Marsh Distillery experience tasting handcrafted spirits and liqueurs.  The Martins, are pioneers in developing the first of its kind artisan distilling in New York State. Try tastes of Bourbon Whiskey, Bee Vodka, Cherry Pie Liqueur and Cinnamon Apple Liqueur.
This itinerary is a suggestion, for further options check out these other sites, our Byway Destinations, Cayuga Lake Wine Trail or Discover Seneca for a complete list of accommodations, restaurants, wineries and other attractions to choose from.
Christmas in the Village of Aurora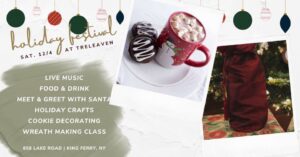 On December 4th, visit the Village of Aurora as they celebrate Christmas in Aurora.  Enjoy an outdoor Holiday story walk put on by the Aurora Free Library. Shop for local gifts at the Craft Fair, Cooperesque Boutique Gallery or at the Village Market. You'll find oil paintings, jewelry, pottery, weaved or knitted items, a gift for everyone. Experience the Village Tree Lighting, see a working print museum or listen to an assortment of Christmas music. As well, visit the Holiday Festival at Treleaven Winery for fine wines, cookie decorating, holiday crafts and Live music.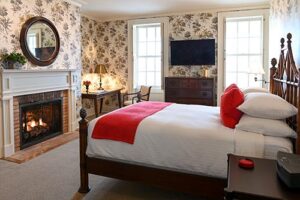 Stay in your choice at any of the luxurious Inns of Aurora, at one of their five establishments, all decked out for Christmas. The Aurora Inn located on Cayuga Lake was built in 1833 by Colonel E.B. Morgan and was a long-favored resting-place, back in the day as it is today. The Aurora Inn offers a perfect balance of historic charm and modern luxury. 
Dine at their restaurant  at the 1833 Kitchen & Bar for a dinner of Seared Scallops, Pasta Bolognese or Delicata Squash best of the season's bounty. For a lighter fare choose the Fargo Bar & Grill just across the street.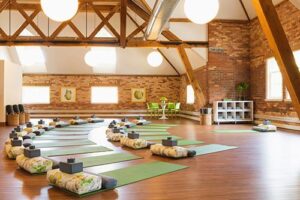 Shop till you drop at MacKenzie Childs for hand painted ceramics, dinnerware and furniture, for that whimsical appeal. If a taste of wine is your pleasure visit Hearts and Hand Winery for an award-winning Pinot Noir, Riesling or Chardonnay. To feel pampered and totally relaxed, book a Spa Treatment at The Spa at the Inns of Aurora for a holistic approach to wellness.
This itinerary is a suggestion, for further options check out these other sites, our Byway Destinations, or Tour Cayuga for a complete list of accommodations, restaurants, wineries and other attractions to choose from.
Fun-Filled Family Summer Vacation 
The Cayuga Lake Scenic Byway has countlessly served as an unforgettable family vacation destination. There is so muchto see and do for children of all ages. For accommodations there are family friendly hotels or if you would like a more natural experience, we have numerous campgrounds in the area to choose from including 3 State Parks, Cayuga, Long Point and Taughannock State Park.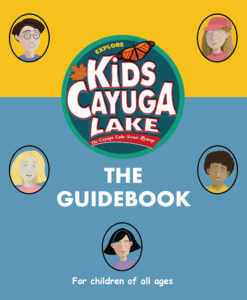 Our Byway has three programs to keep your family occupied. First start out with our Kids Cayuga Lake Guidebook, a scavenger hunt activity program that takes you completely around Cayuga Lake as you drive along the Byway. Figure out each riddle and puzzle, there are12 sites in all to visit. Click on the Guidebook above to find out more details and numerous places to pick-up the book. A great learning experience for everyone in the family.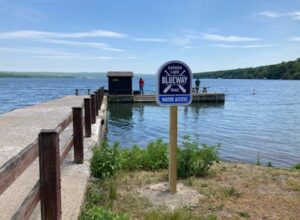 New to our Byway is our newly launched Blueway Trail. If canoeing, kayaking or paddle-boarding are a must for your fun-filled trip, you are going to want to paddle along the Blueway Trail. The Blueway Trail offers 24 paddling trips at 12 different sites on Cayuga Lake. These trips are suitable for novices and experts alike. If paddle-craft rentals are your need Paddle-N-More is the place for you. They have 3 different locations located around the Lake and specialize in kayak, canoe and paddleboard adventures as well as lessons.
Another fun activity is our Geo-caching Trail. This is a hands-on hunt using GPS coordinates to find each cache.  The cache is a small box with notes inside and a numbered hole-punch to punch your logbook. We have 20 caches strategically placed on both sides, east and west of Cayuga Lake to discover. Find 15 caches and you'll receive a Cayuga Lake Scenic Byway commemorative coin.  Make sure to check out the cache at the Rural Life Museum on the east side of Cayuga Lake in King Ferry. Details about Geo-caching and how-to pick-up the Logbook are given on our site.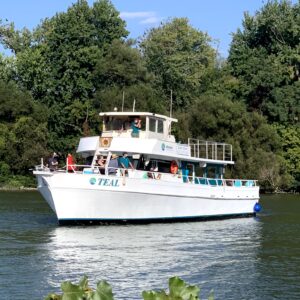 You won't want to miss out on a trip on Discover Cayuga Lake. Check out their educational programs that take place right on the MV Teal, the Floating Classroom. Other fun places to visit are the Cayuga Nature Center and the Museum of the Earth.
This itinerary is a suggestion, for further options check out our Byway Destinations for a complete list of accommodations, restaurants, and other attractions to choose from.
Featured Partners
Top-Tier Supporters of the Cayuga Lake Scenic Byway, Inc. Enjoy the Ride!