Summer along Cayuga Lake is a perfect time to join us for a 2- or 3-day getaway weekend as you sip fine wines at our fabulous wineries, rejuvenate on a Spa Day or wellness consult, visit spectacular museums, enjoy superb dining and stay at the most splendid places.
Cayuga Lake, a glacially-formed lake, is one of the Finger Lakes and is 40 miles long. The Scenic Byway, an 87-mile loop, surrounds Cayuga Lake and follows spectacular lake views, rolling hills, picturesque vineyards and waterfalls along the way.  Come and visit for a day, three days or five to explore the beauty and the ambience we have to offer. The following are a few itinerary ideas to choose from, so mix and match to create your perfect stay along the Cayuga Lake Scenic Byway.
Ithaca's Farmer's Market 

When visiting Ithaca your choices of activities are plentiful. Here are a few options. Stop at Ithaca's Farmers Market at Steamboat Landing, Saturdays starting April 2 through the Fall. So many unique vendors – Autumn Harvest, offering pasture-raised meats, Bellwether Hard Cider producing Hard Cider and wines, and Ithaca Sheepskin creating handmade sheepskin outerwear just to mention a few. Here's their Vendor Directory.
The following is a small synopsis of some of the culinary delights you will experience at the market. For garlic lovers try, Garlic Scape Pesto from Six Circles Farms, a deliciously unique pesto made from their hardneck rocambole garlic scapes blended with locally grown and pressed sunflower oil. If pastries are your delight check out Veronika's Pastry and Crepes, for a 9 bundle of scones, your choice of croissants, almond apple bars or Gluten Free Chocolate Cake and so much more. Order online by Thursday to pick up your specialty pastries at the Market.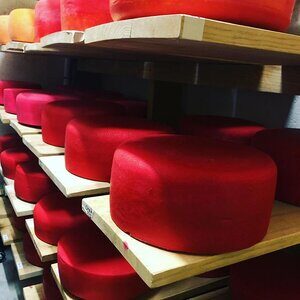 Cheese lovers, try cheeses made by Snow Farm Creamery using traditional cheese-making methods. They start with raw milk and produce cheeses deep in flavor and rich in taste such as Gouda, Swiss, Cheddar, Feta and Asiago. Now, how about Shiitake Mushroom Vodka produced at Mushroom Spirits Distillery, a one-of-a-kind line of mushroom-based spirits. The distillery is home-based on the Cayuga Lake Scenic Byway on State Route 89. So many unique vendors and diverse tastes to choose from.
Enjoy a scenic drive along the Cayuga Lake Scenic Byway to explore the many hiking trails or taste at the many Cayuga Lake wineries and breweries that are open year-round.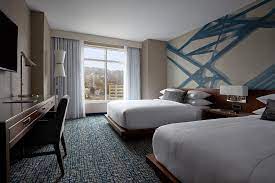 Stay at the Ithaca Marriott Downtown located in the heart of the Downtown Ithaca Commons. Find yourself within walking distance of a choice of over 50 restaurants, local art galleries, boutique shopping, and many other attractions. Dine at the hotel's restaurant and bar, Monks on the Commons or cozy up with craft cocktails by the fire on the patio. Bring your four-legged friend with you as their hotel is pet friendly.
This itinerary is a suggestion, for further options check out these other sites, our Byway Destinations, Visit Ithaca or Cayuga Lake Wine Trail for a complete list of accommodations, restaurants, wineries and other hiking trails to choose from.
Showcasing Great Women in Seneca Falls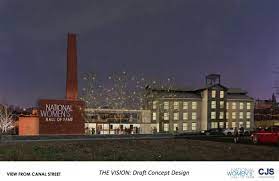 When taking a trip to the northern part of Cayuga Lake in Seneca Falls, you'll find a great museum that will inspire you, the National Women's Hall of Fame. The National Women's Hall of Fame is achieving their mission by preserving everyone's historical roots through the induction of great women. As of 2021, it has 303 inductees.
Here's a small synopsis of a few inductees and their accomplishments. Susan B. Anthony, one of the most powerful organizers of the women's movement paved the way for the women's right to vote.
Actress Lucille Ball, who is a well-known comedienne for her part on the "I Love Lucy Show", was a television pioneer who excelled both in the acting and the production aspects of television.
Saint St. Francis Xavier Cabrini, who established orphanages, day care centers, schools, clinics and hospitals for immigrants in the United States and around the world was the first American citizen to be canonized a saint.
Aretha Franklin, a singer, songwriter, pianist, actress, was also a civil rights activist.
Annie Oakley, a markswoman, was a performer for many years with Buffalo Bill's Wild West Show. Oakley was a staunch supporter of other women's opportunities and raised funds to send needy women to college and nursing school.
Explore and learn more about all the other inductees who have completed our lives and created a much better world to live in.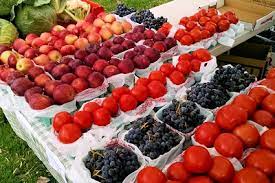 In Seneca Falls, every summer make sure to visit the Seneca Falls Farmer's Market located at People's Park starting June  21st through October 4. Every Tuesday from 2pm till 6pm enjoy an array of family farmers, bakers, artisans and crafters homegrown or homemade wares.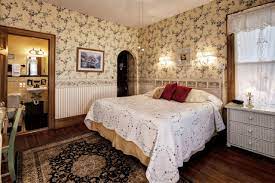 For a place to stay, Barrister's Bed and Breakfast ,also located in Seneca Falls, offers you warm, friendly service and the most amazing breakfasts you will ever have. This home was built in 1860 and is full of the finest details, carved oak mantels, stained glass windows and spacious porches. The house speaks of history as well as the many places you can visit such as the National Women's Hall of Fame. The quaint village of Seneca Falls has shops, restaurants and other museums to visit.
As you venture out along the Cayuga Lake Scenic Byway include a few wineries for a tasting. Visit Buttonwood Grove Winery where you can enjoy spectacular lake view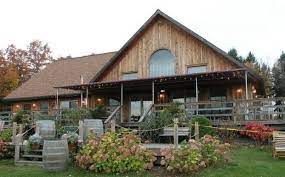 s and beautifully landscaped grounds. Here you'll be able as you sit out on their deck and enjoy a wine tasting, recent NY Wine Classic Gold Medal winners.  For full list of their events, concerts and cabin availability at Buttonwood Grove Winery check out their site.
This itinerary is a suggestion, for further options check out these other sites, our Byway Destinations, Cayuga Lake Wine Trail or Discover Seneca for a complete list of accommodations, restaurants, wineries and other attractions to choose from.
 A Wellness Spa Day in the Village of Aurora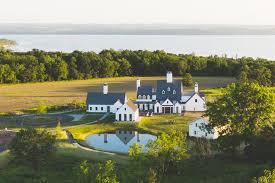 To feel pampered and totally relaxed book a Spa Treatment at The Spa at the Inns of Aurora for a holistic approach to wellness. The Spa offers two hydrotherapy circuits, a traditional sauna, a steam room, therapeutic treatments, facials and massages provided by Rasa Spa. The Spa at the Inns of Aurora believes that the defining feature of a wellness spa is more than just the facilities and the treatments: "It is the emphasis placed on individual healing".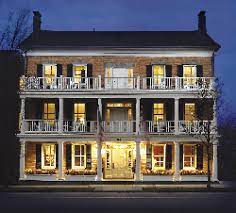 To rest your head, stay in your choice at any of the luxurious Inns of Aurora, five establishments to choose from. The Inns of Aurora located on Cayuga Lake was built in 1833 by Colonel E.B. Morgan and was a long-favored resting-place, back in the day, as it is today. The Inns of Aurora offer a perfect balance of historic charm and modern luxury.
Dine at their restaurant, the 1833 Kitchen & Bar for Brunch every day from 9:00am till 2:00 pm. Delight in a Smoked Salmon Bagel, Caprese Chicken Bagel, Prosciutto Benedict or a Spinach and Local Feta Omelet plus so many other divine choices. For a lighter fare choose the Fargo Bar & Grill just across the street. Open from Wednesday through Sunday, hours vary.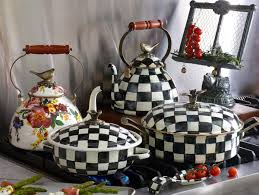 Shop till you drop at MacKenzie Childs for hand painted ceramics, dinnerware and furniture, for that whimsical appeal.  If a taste of wine is your pleasure visit Long Point Winery for an award-winning Red Zinfandel, Syrah, Cabernet Sauvignon or a Dry Riesling.
This itinerary is a suggestion, for further options check out these other sites, our Byway Destinations, or Tour Cayuga for a complete list of accommodations, restaurants, wineries and other attractions to choose from.
Fun-Filled Family Summer Vacation 
The Cayuga Lake Scenic Byway is an unforgettable family-vacation destination. There is so much to see and do for children of all ages. For accommodations, there are family-friendly hotels or if you would like a more natural experience, we have numerous campgrounds in the area to choose from including 2 State Parks, Cayuga Lake and Taughannock Falls, right along the Byway.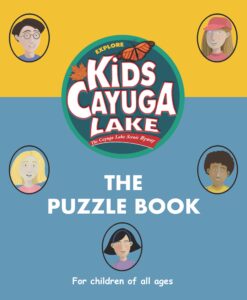 Our Byway has three programs to keep your family occupied. First start out with our Kids Cayuga Lake Puzzle Book a scavenger-hunt activity program that takes you completely around Cayuga Lake as you drive along the Byway. Figure out each riddle and puzzle, there are 12 sites in all to visit. Click on The Puzzle Book title to the right to find out more details and the locations to pick up the book. A great learning experience for everyone in the family.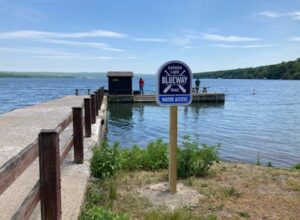 Also new to our Byway in 2021, is our Blueway Trail. If canoeing, kayaking or paddle-boarding are a must for your fun-filled trip, you are going to want to paddle along the Blueway Trail. The Blueway Trail offers 24 paddling trips at 12 different sites on Cayuga Lake. The trips vary from novice to expert. If paddle-craft rentals are your need Paddle-N-More and Paddledockers are the places for you. Paddle-n-More has 3 different locations around Cayuga Lake and specialize in kayak, canoe and paddleboard adventures as well as lessons. At Paddledockers, located in Ithaca,  your journey begins in the Ithaca inlet and excursions head out to Cayuga Lake. Specialty Morning and Evening tours are available.
Another fun activity is our Geocaching Trail. This is a hands-on hunt using GPS coordinates to find each cache.  The cache is a small box with notes inside and a numbered hole-punch to punch your logbook. We have 20 caches strategically placed on both sides, east and west of Cayuga Lake to discover. Find 15 caches and you'll receive a Cayuga Lake Scenic Byway commemorative coin.  Make sure to check out the cache at the Rural Life Museum on the east side of Cayuga Lake in King Ferry. Details about Geo-caching and how-to pick-up the Logbook are given on our site.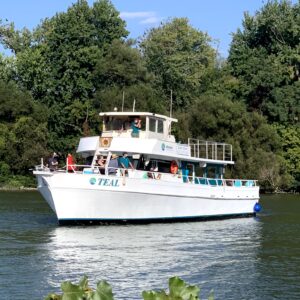 You won't want to miss out on a trip on Discover Cayuga Lake. Check out their educational programs that take place right on the MV Teal, the Floating Classroom. Other fun places to visit are the Cayuga Nature Center and the Museum of the Earth.
This itinerary is a suggestion, for further options check out our Byway Destinations for a complete list of accommodations, restaurants, and other attractions to choose from.
Featured Partners
Top-Tier Supporters of the Cayuga Lake Scenic Byway, Inc. Enjoy the Ride!