The Cayuga Lake Scenic Byway, Inc. is the not-for-profit organization founded in 2002 to promote and enhance the Byway experience. We are an all-volunteer group of residents, business owners, and community organizations who are passionate about sharing the history, culture, and scenic landscape with residents and visitors through a variety of programs. Check out our Scenic Byway and Blueway pages as you plan your trip to visit us.
The Cayuga Lake Scenic Byway, Inc. Board of Directors meet bi-monthly on the fourth Tuesday of the month. The Board is supported by Executive Director Sue Poelvoorde, a former Board member. Sue retired from a 30-year career with New York State Parks – Finger Lakes Region and volunteered to continue with the Byway organization to further its mission.
Our Board of Directors
Cathy Millspaugh, Byway Resident – Chair
Jeff Kostick, Cayuga Lake Creamery – Vice Chair
Fernando de Aragón, Ithaca-Tompkins County Transportation Council – Treasurer
Marcus Riehl, New York State Office of Parks, Recreation and Historic Preservation – Secretary
Vicki Agnello – Mozaic
Kathy Chase – Cayuga Lake Wine Trail
Jodi Lee Denman – Byway Resident
Susan Henking – Wells College
Allison Hogue – Warren Real Estate
Kit Kalfs – Bet the Farm Winery
Kate Supron – Cornell University
Ex-Officio County Planning
Nick Helmholdt – Tompkins County Department of Planning and Sustainability
Harriet Haynes – Seneca County Planning and Community Development
Kari Terwilliger – Cayuga County Planning and Economic Development
Ex-Officio County Tourism Office
Peggy Coleman – Ithaca/Tompkins County Convention & Visitors Bureau
Karen Kühl – Cayuga County Office of Tourism
Jeff Shipley – Seneca County Tourism
Advisory Organizations
Andrea VanBeusichem – Montezuma National Wildlife Refuge
Christine Colley – New York State Department of Transportation
Our Mission
Cayuga Lake Scenic Byway, Inc. mission is to advance the ideas set forth in the Corr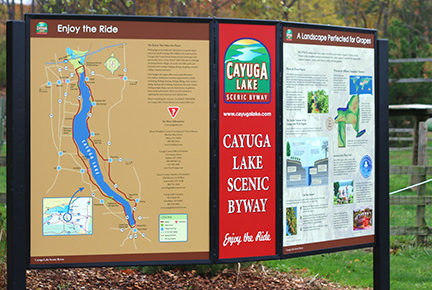 idor Management Plan, the document used to apply for official designation, and the Strategic Plan developed by the Board of Directors. To date, our all-volunteer Board has accomplished much including:
 Installation of highway route signs
 Design and installation of three wayfinding/interpretive signs
 Establishment of a Geocaching Trail
 Publication of annual e-newsletters
Marketing with television, online and print outlets
Establishment of the Cayuga Lake Blueway Trail
Establishement of the Cayuga Lake Birding Trail
Publication of the KIDS CAYUGA LAKE Puzzle Book
Featured Partners
Top-Tier Supporters of the Cayuga Lake Scenic Byway, Inc. Enjoy the Ride!