What is it like to paddle Cayuga Lake?
Cayuga Lake is the longest of the eleven Finger Lakes, stretching 40 miles in length. As the Finger Lake name implies, Cayuga Lake is long and narrow like a finger. Over the course of its length, the lake varies in width from 3.5 miles wide at its widest point to a mile at its narrowest, but averages about 1.7 miles wide over most of the course of its length. So, you'll never be out of sight of a shoreline on your paddle.
Although narrow, the lake is deep for much of its length – ranging from 435 feet deep, at its deepest location, to an average a little over 300 feet for roughly 2/3's of the length. The north and south ends of the lake are shallow. Depths at the south end range from 1 foot to 16 feet for about ¾-mile off shore of the city of Ithaca before dropping off to over 100 feet in depth. At the north end, depths range from 2 feet to 25 feet for about 9 miles before dropping off to a little under 100 feet.
Because the lake is so deep the water stays cold even in the heat of summer. We strongly encourage that paddlers, no matter how experienced you are, always wear a life vest and stay close to shore. The shock of submerging in cold water can very quickly lead to drowning. Also, if you are in the cold water for a length of time hypothermia will set in, even in summer!
One final piece of information about paddling Cayuga Lake, ALWAYS check the weather before heading out. Aside from thunderstorms that can pop up quickly, it is important to know the wind direction and intensity. The glacial formation of the lakes created a unique feature on the Finger Lakes. The lakes sit in steep troughs that create a tunnel effect, channeling winds up or down the lake that intensifies their strength. As a result, some serious wave action can happen.
Cayuga Lake is fortunate to have a United States Coast Guard Auxiliary unit operating out of the city of Ithaca. The following link provides some additional information for online sources to check the weather before heading out on the lake.
http://www.wow.uscgaux.info/content.php?unit=092-02-02&category=cayuga-lake
Boat Safe! Boat Smart!
Whether you are a seasoned paddleboater or new to the sport, we want you to stay safe while boating on Cayuga Lake's Blueway Trail.  Below are some basic safety rules to remember. If you haven't taken a Boater Safety course, we recommend you do so no matter how experienced you feel you are. Check out the free Paddle Sport Safety Course at www.PaddleCourse.com

We put together a short list of safety tips to get you started for your paddle adventure on Cayuga Lake.
Please review them before heading out on the water.
Always know the weather.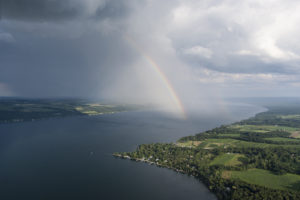 Conditions on Cayuga Lake can change very fast. Winds and thunderstorms can move in very rapidly during the boating season. This is another reason to stay close to shore. Also, know the locations where you can land your boat if you need to get off the water fast.
Always let someone know your paddling plan.
Leave information on where and how long you expect to be out on the water with another family member or a friend. Make sure you check back in with that person when you get off the lake.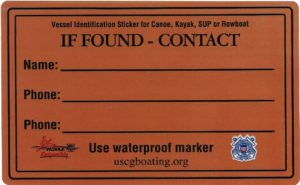 Also, because paddlecraft do not require registering like power- and sailboats, you should  have a label on your boat that lists your name and who to contact if your craft is found and you are not in it. The Coast Guard has a waterproof sticker you can fill out using a waterproof marker, (a laundry marker works best) and attach to the hull of your paddlecraft.
Always wear your life vest.
It's a hot day or you're an excellent swimmer, so you don't think you need to wear your Coast Guard approved life vest. YOU DO! This is a very large lake and it does not warm up, not to mention the weather can turn pretty fast. If you go overboard, you will start to get hypothermia pretty quick. Stay safe and wear your life vest at all times.
Stay clear of powered vessels.
The safest travel route for paddle-powered vessels is to stay close to shore. If traveling in a group, stay close together. Powerboats, sailboats and jet-skis cannot stop fast.
Know the right-of-way rules of traveling on the lake and in channels.
Always be aware of other boats near you – behind, ahead and to sides. Taking the Paddle Sport Safety Course will help you know and remember the rules-of-the-road for safe water travel.
Handling powerboat wakes.
Powerboats create wakes, which can be significant if they are traveling at high speed. The safest way to deal with the situation is to change course and paddle into the wake. That means the bow of your paddlecraft will be cutting through the wake.
Make sure you are visible.
Kayaks and canoes ride very low to the water, which makes it difficult for larger watercraft to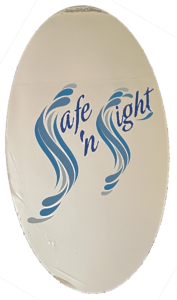 see you. If your kayak is not a bright color (orange, yellow, etc.) make sure to have a bright-color paddle or wear a bright-color life vest. You can also get reflective paddle decals from the Coast Guard.
Watch for submerged objects.
Cayuga Lake is fed by many streams all around the lake. Heavy rain events can wash logs, large tree limbs and other debris into the lake. High winds that create large wave events on the lake can also carry debris from shore into the lake. Always keep an eye open for any debris ahead of you.
Lake Crossings
A few of the Day Trips have lake crossings that create a loop paddle on the lake. The lake crossing trips are recommended for more skilled paddlers. We also recommend attempting these trips when powerboat traffic is low. Weekdays or in the early hours of weekend days there is lower powerboat traffic on the lake. Even for skilled paddlers, caution is advised for all the reasons described in the safety tips above.
Important Equipment to Have On-board
The following is a list of equipment you should have with you every time you head out for a paddle trip.

United States Coast Guard Approved Life Vest
Whistle, handheld horn, or other loud sound producing device
Light – for night or low-visibility weather conditions
Paddle tether
Rope – for towing
Compass
First aid kit
Disclaimer
There are inherent risks and dangers in participation in the activities associated with the Cayuga Lake Blueway Trail, and participation in said activity and use of any equipment related to such activities may result in injury, illness or death and/or damage to personal property. Other participants, accidents, forces of nature or other causes may cause these risks and dangers. Cayuga Lake Scenic Byway Inc. assumes no liability for injuries or damages that may arise from participation in the Blueway Trail.
Featured Partners
Top-Tier Supporters of the Cayuga Lake Scenic Byway, Inc. Enjoy the Ride!