Help us celebrate our 20th Anniversary by joining us for our
Second Annual Cayuga Lake Scenic Byway Virtual Step Challenge!
The Cayuga Lake Scenic Byway, Inc. (CLSB), is the non-profit organization that manages and promotes the Byway. The 87-mile Byway loops around Cayuga Lake, the longest and second deepest of the Finger Lakes.
Second Annual CLSB Annual Step Challenge
Sponsored by

July 30th to August 31st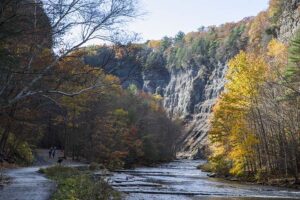 Congratulations to our Top Ten Steppers for our Second Annual CLSB Step Challenge: Debbie, Don, Felecia, Leslie, Claudette, Lynn, Greg, Allison, Katie and Carrie for winning our Taughannock Falls Keepsake Charm.  A total of twelve and a half million steps were stepped during our 1 month step challenge by all of our participants. A Big Thank You to all who particiapted.
Our Second Annual CLSB Step Challenge is sponsored by Tompkins Community Bank and CFCU Community Credit Union. Our Kick-Off event will start the challenge on July 30th at 6:00 p.m. at Taughannock Falls State Park. Sign up to participate in this year's event, if you haven't already, and help us celebrate our 20th Anniversary. Add steps to your challenge by dancing the night away with the Gunpoets at 7:00 p.m. The event registrant with the most steps that evening at the end of the concert will win a Gift Basket of wine from the Cayuga Lake Wine Trail and Bet the Farm Winery, a Cruise for 2, $80.00 value from Discover Cayuga Lake including a free rental for 2 from Paddle-n-More.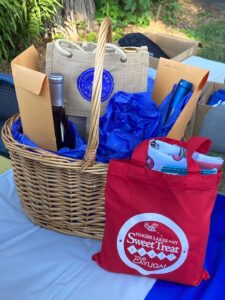 Congratulations to Debbie for being our Top Stepper during our Kick-Off Event at Taughannock Falls State Park on Saturday, July 30 and winning the Gift Basket. She had been camping and signed up to participate due to seeing one of our Posters displayed at the Park. Congratulations also goes to Leslie for being our Top Stepper at last year's event, completing 500,191 steps. She was acknowledged at the kick-off event and received a bag full of goodies from the Finger Lakes Sweet Treat Trail located in Cayuga County.
How to compete:
Begin registering for our new step challenge. Follow these instructions to get registered.
1) Download the Pacer app on your phone.
2) Click on this link to get your invitation to join
https://www.mypacer.com/organizations/fw97963/invite
The invitation will be sent to your email address and from your phone select Accept and Join.
3) Once you have the Challenge linked up to the Pacer app on your phone, scroll down through the Challenge description and rules page to the link to the Stripe website to make the donation of $35.00 to participate. You will not be registered to receive the t-shirt and medal if you do not donate to the fundraiser.
If you have trouble with any of the steps on the Pacer app, here is a user guide to download/view to help.  Cayuga Lake Scenic Byway, Inc. User Guide
Also, you can email us questions, suggestions or ask for help at info@cayugalake.com
You will be able to link it to your favorite fitness tracker, Fitbit, Garmin or for i-Phone users Apple Health or Apple Watch and for Android users use Google Fit or Samsung Health. You will also be able to apply an evaluate amount of steps from other activities you pursue like yoga, bicycling, kayaking. The Pacer app has these options in the Log Health Data section of the Home page of the app.
Swag:
This year each registrant with receive a 20th Anniversary T-shirt and custom event medal!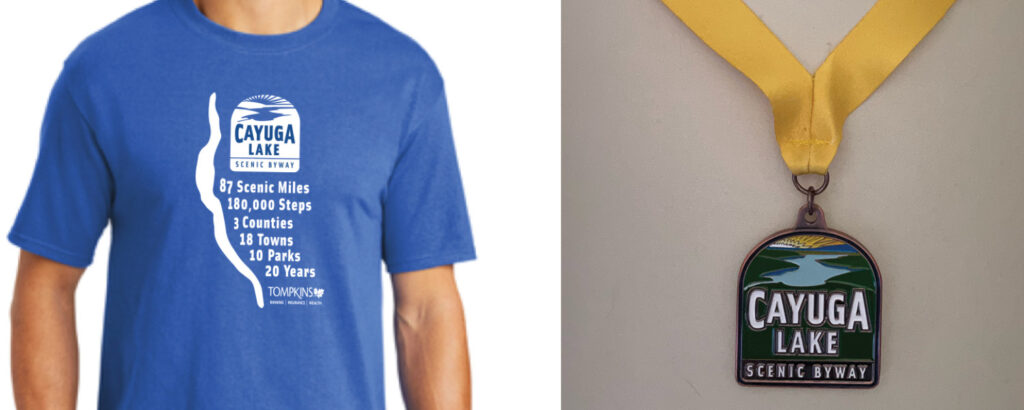 Top 10 Steppers:
Be one of the first top ten steppers and you'll receive a beautiful Keepsake Charm designed by Micky Roof of The Jewel Box, in Ithaca, NY. This year's design is Taughannock Falls.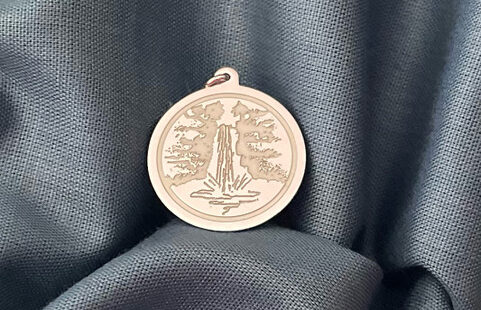 Ways to get your steps in:

Walk the dog. Go for a run. Walk regular everyday steps at work or home. Walk to Taughannock Falls. Walk the Black Diamond Trail. Walk the Cayuga Waterfront Trail in Ithaca. Check out the Byway's Geocaching program. Walk through the Montezuma National Wildlife Refuge. Park the farthest away from your destination's front door.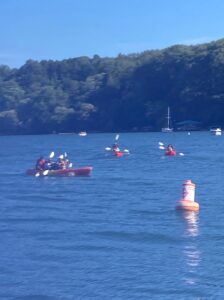 This year we've expanded the way you can accumulate your steps! You'll be able to manually add steps that will be converted from other activities you participate in kayaking, paddleboarding or canoeing on our Blueway Trail; bicycling; or swimming.
Not in the Cayuga Lake area but, want to participate?
Not a problem! While many of our suggestions for getting your steps in are right on the Byway, you do not have to be here to participate in our challenge. You can do it wherever you live and however you'd like, that's the best part about a virtual event!
See you along the Cayuga Lake Scenic Byway! Happy Stepping!
Featured Partners
Top-Tier Supporters of the Cayuga Lake Scenic Byway, Inc. Enjoy the Ride!