Not long after the Cayuga Lake Scenic Byway received its official designation in 2002, a core group behind planning the Byway sat down to plot the course for the future. Out of that process came the not-for-profit corporation, the Cayuga Lake Scenic Byway, Inc. (CLSB), in 2003.
Who is the CLSB?
Our not-for-profit corporation consists of an all-volunteer Board of Directors. Members come from communities in the three counties surrounding Cayuga Lake – Cayuga, Seneca and Tompkins. Business owners, private residents, representatives from the three county tourism offices, representatives from the three county planning offices, and representatives from major private and governmental organizations in the counties sit on the Board of Directors of the CLSB. Our current executive director is also a volunteer – a former Board Director who just couldn't leave the Byway family after retiring from her 30-year career.
Our Mission
CLSB's mission is to advance the ideas set forth in the Corr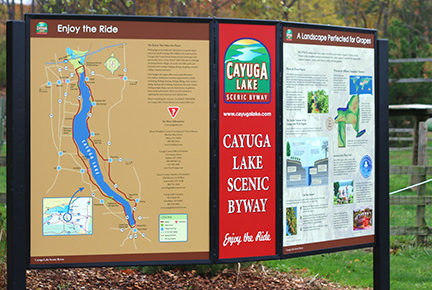 idor Management Plan, the document used to apply for official designation, and the Strategic Plan developed by the Board of Directors. To date, our all-volunteer Board has accomplished much including:
 Installation of highway route signs
 Design and installation of three wayfinding/interpretive signs
 Establishment of a Geocaching Trail
 Publication of annual e-newsletters
Marketing with television, online and print outlets
In the Works
Celebrating our 20th year, as we reflect back we've come a long way. In 2021, we introduced three new programs to share information about the Cayuga Lake area and to encourage residents and visitors to experience the scenic and cultural setting of the Byway. Again, working with our three county planning offices under a grant from New York State's Waterfront Revitalization Program, the Cayuga Lake Blueway Trail was developed to help folks have an enjoyable, safe on-the-water experience with Cayuga Lake. Head on over to the Blueway Trail section of our website to learn more.
In concert with the Blueway Trail, a Birding Trail was developed. The Blueway Trail sites are also great places to experience the variety of birds who reside and breed in the area and migrate through the area each spring and fall. Cayuga Lake is part of the Atlantic Flyway, the migration highway used by thousands of bird species. Spring and fall are the highlight times to bird, but year-round you'll spot some awesome species including our national bird, the Bald Eagle, who won't be outdone by the Osprey fishing the waters of Cayuga Lake too. Check out the Birding Trail page.
Finally, we developed a program for families to enjoy. The Kids Cayuga Lake program is a scavenger-hunt type activity where you'll be directed to 12 locations around the lake and asked to solve puzzles to find the featured item at the site. Hot off the presses is our second edition of the Kids Cayuga Lake Puzzle Book. The books will be distributed to locations around the lake. A list is located on the KIDS CAYUGA LAKE page.
Want to Help?
As a not-for-profit, donations from businesses, residents and visitors are our lifeblood. If you love Cayuga Lake, we hope you'll become a supporter of the CLSB. Head on over to our Support page to learn more.
The Cayuga Lake Scenic Byway, Inc.
Staff
Sue A. Poelvoorde, Executive Director
Board of Directors
Cathy Millspaugh, Byway Resident – Chair
Vicki Agnello, Mozaic
Fernando de Aragón, Ithaca-Tompkins County Transportation Council – Treasurer
Kathy Chase, Cayuga Lake Wine Trail
Jim Delia, Byway Resident
Jodi Lee Denman, Paddledockers/Explore Ithaca
Allison Hogue, Warren Real Estate
Kit Kalfs, Bet the Farm Winery
Jeff Kostick, Cayuga Lake Creamery – Vice Chair
Ken McConnell, Barrister's Bed & Breakfast
Marcus Riehl, New York State Parks – Finger Lakes Region
Kate Supron, Cornell University – Secretary
Ex-Officio
Peggy Coleman, Ithaca-Tompkins County Convention and Visitors Bureau
Karen Kühl, Cayuga County Convention and Visitors Bureau
Jeff Shipley, Seneca County Chamber of Commerce
Nick Helmholdt, Tompkins County Planning
Harriet Haynes, Seneca County Planning
Kari Terwilliger, Cayuga County Planning
Partner Organization
Andrea VanBeusichem, Montezuma National Wildlife Refuge
Featured Partners
Top-Tier Supporters of the Cayuga Lake Scenic Byway, Inc. Enjoy the Ride!